Discover Our Disco Party Packages
Ready to turn your event into an unforgettable celebration? Our disco and karaoke party packages are designed to suit all occasions, from Weddings and Birthdays to Anniversaries. Each package comes complete with everything you'd expect, including a powerful sound system and mesmerising lighting effects. And to make it even more special, we offer a variety of optional add-ons you can choose from.
Our transparent pricing, listed below, covers everything in these all-inclusive disco packages. However, please keep in mind that the final cost may vary depending on factors like travel distance, venue access, and playing time. Based in Evesham, our service area encompasses vibrant towns such as Worcester, Cheltenham, Gloucester, Stratford upon Avon, Warwick, Leamington Spa, Banbury, Redditch, and Birmingham. If your event requires us to journey further, additional travel charges may apply.
Rest assured, we've taken care of the details. We've assumed that your chosen venue doesn't have a sound limiter, offers free on-site parking, and has easy, step-free access for unloading and setup.
Ready to bring your event to life with our music and entertainment? Get a quote today and let's get the party started!
Looking for a Karaoke Party?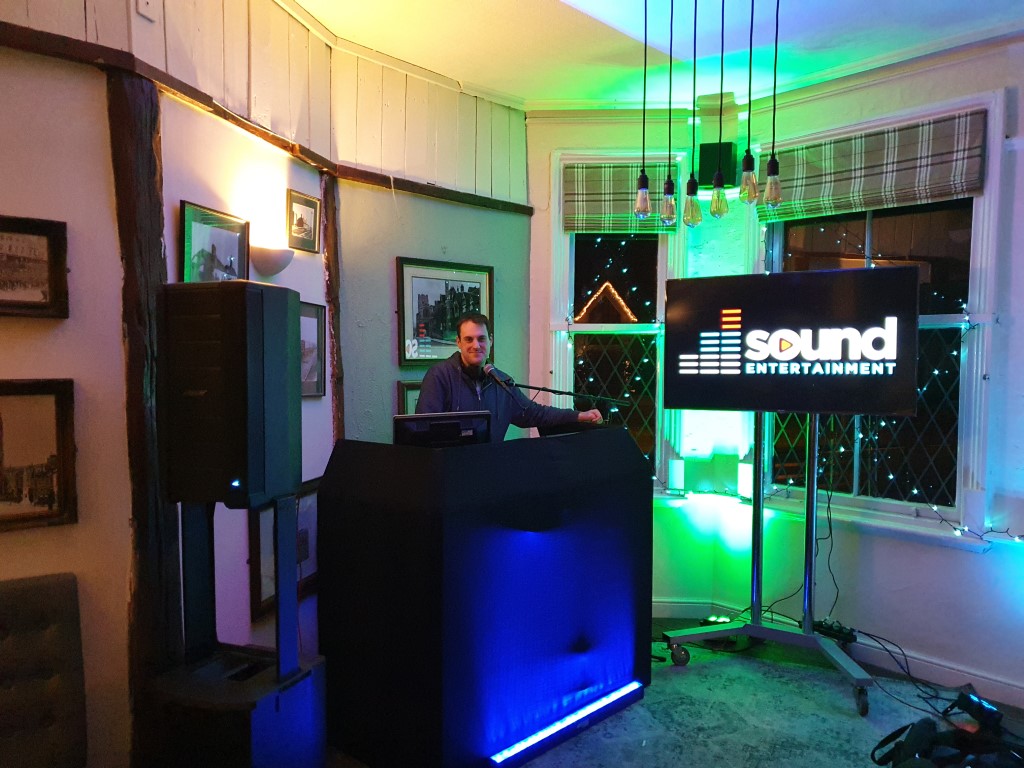 Silver Disco Party Package
Perfect for smaller parties or venues where there isn't much space. This elegant set up includes everything you would expect including a high-quality and high-powered sound system, along with a small selection of effects lights mounted on a T-bar which shines over and fills the dancefloor.
From £250
Includes 5 hours playing time. £50 for each additional hour thereafter.
£30 deposit required to book.
Gold Disco Party Package
For the ultimate party experience, you need our gold package. It includes our high powered 4Kw sound system, and superb club-quality lighting show mounted on a section of truss. A large TV is mounted on the truss for music video playback, along with a number of lighting effects. We also bring a smoke machine to show up the light beams .
From £300
Includes 5 hours playing time. £50 for each additional hour thereafter.
£30 deposit required to book.
Platinum Wedding Disco Package
Your wedding day is very special, and our wedding package offers you not just a mobile disco but a complete entertainment and audio/visual package to cover your entire day. We will stay on site throughout and will set up and manage our audio/visual equipment as required for you. Speaker system for speeches and background music, large TV screens for showing videos or photos, and not forgetting our main disco rig.
In short, this package will make sure all your audio visual requirements are covered at your wedding, and equipment is set up and ready to use whenever and wherever you need it on your special day.
If you and your friends and family love to sing, then you can opt to have Karaoke included as part of the package.
From £575
Includes upto 12 hours playing time.
£50 deposit required to book, with balance due 1 day before the start time of your event.
Kids Party Package
Perfect for youngsters (under 12). A 2.5 hour party package with the latest and greatest cheesy pop kids love, mixed in with classic party games to keep them moving and engaged.
This package is only available for daytime parties due to take place between 10am and 5pm.
From £150
2.5 hours playing time.
£30 deposit required to book.
Karaoke Party Package
Browse the huge range of karaoke tracks and make your request to the DJ. When called, step up to the microphone, follow the words on the screen and sing. You don't have to do it alone, you could choose to do a duet. There will still be time for dancing we will keep the big party tunes playing between karaoke. We will make it a true night to remember.
"James was great, really friendly and played to our party's taste to get everyone involved. Would definitely use James again!"
40th Birthday in Northampton