Karaoke Party
Get ready to unleash your inner superstar with a night of karaoke! There's nothing quite like the rush of belting out your favorite tunes in front of a crowd, and a karaoke night provides the perfect opportunity to do just that. Whether you're a seasoned performer or a first-time singer, a karaoke night is guaranteed to be a blast.
Pick your favourite song, step up to the microphone, and sing.
Our karaoke parties are great for any occasion, and we make it easy for all your guests to get involved and show-off their singing talent. There is an enormous range of karaoke tracks your guests can choose from, and the words of the song are displayed on large screens we bring along.
Your guests don't have to sing on their own, they can grab a friend and sing a duet, or just come up as a group.
To help your guests find inspiration, we bring along a couple of printed catalogue which show the most popular karaoke songs which we leave on tables around your venue for your guests can browse through. When one of your guests wants to sing a karaoke track, they simply come up to the DJ booth and make the request. When their turn comes around, we will call them up and invite them to the microphone.
There will still be time for dancing, as in between karaoke tracks we will play the biggest and best party songs to keep the flow going while giving the next person singing a chance to get themselves ready.
Typical Format
The majority of our Karaoke parties tend to follow this format:
For the first hour or so, we will play background 'foot-tapping' music while your guests arrive, grab a drink and mingle. It also gives your guests time to flick the printed catalogue of karaoke songs to help give them ideas.
After any formalities or food you may have, we then start accepting karaoke requests and invite everyone in the room to sing along to a classic karaoke favourite (typically something like Sweet Caroline by Neil Diamond, Delilah by Tom Jones or Let It Go by Idina Menzel).
Thereafter, we will then mix karaoke requests with regular party music to keep the music going, the evening flowing and the energy high.
We aim to stop accepting karaoke requests around half an hour before the end of your party, which normally provides enough time to get through all the outstanding requests and end the night with a big tune everyone will know and can sing along to.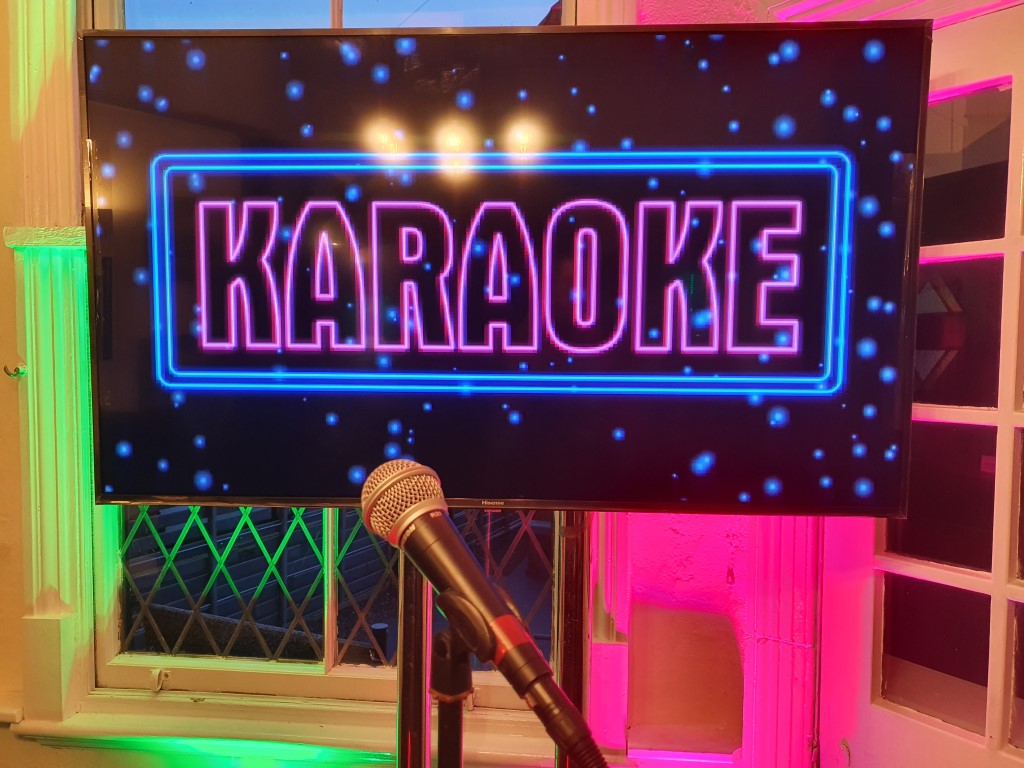 Important Point
Our karaoke party generally very noisy becouse our aim is to get everyone singing and dancing, as such are not suitable for venues which have a sound limited fitted and it's limit is set to less than 100db.
Karaoke Party Package
Our Karaoke Packages is suitable for all kinds of parties including Weddings and Birthdays. The package includes everything you would expect including our DJ booth, sound system, microphones, screens (for displaying words) and a few party lights. The prices below is based a party of upto 5 hours.
From £300
Includes 5 hours playing time. £40 for each additional hour thereafter. Price assumes the venue is within 25 miles of
£30 deposit required to book.
"I couldn't be more positive (and have had lots of guests commenting on "how good the disco was"). James got it absolutely right – "read the do" (a 70th) splendidly. The "extras" like the video tracks were an unexpected bonus, but everything was great, great, great. I'd recommend him to anyone"
70th Birthday in Nuneaton