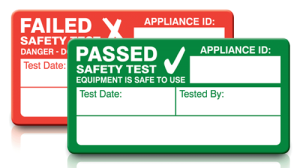 Portable Appliance Testing (PAT)
PAT testing services for Warwickshire, Worcestershire and Gloucestershire.
What's Portable Appliance Testing (PAT)?
If you run a business or organisation, then you are legally responsible for ensuring the safety of your employees and members of the public. If you have a faulty electrical device, then the potential for harm is significant. A defective device or a device with a damaged plug or cable has the real potential to electrocute someone who comes in contact with it, or worst still, your device could overheat and cause a catastrophic fire.
Portable Appliance Testing (referred to as PAT testing) is a routine process which is designed to identify defects in your appliances to help ensure they are electrically safe. Portable Appliance Testing process checks your devices and provides you with documented evidence that you are fulfilling your legal obligation of ensuring that anyone who uses your appliances, which you are responsible for, are safe.
The process itself consists of:
Visual Inspection - Checking the device, its mains cable and plug to ensure there is no damage or defect to the insulation.
Measurement Tests - A series of electrical measurement tests designed to detect defects which cannot be seen by the visual inspection.
In addition to devices, we will also check all your mains extention leads and multiway adapters.
Once your device has passed the process, the test results are recorded and we place a 'Pass' sticker on the device. Once we have finished testing all your appliances, we will provide a detailed report of all your items and the results.
Further information about Portable Appliance Testing can be found on the HSE Website
Getting your appliances tested
Our service includes any appliance which connects to a standard 13amp socket, or an industrial 16amp (normally blue) socket. Here are just some examples of appliances we will test:
Office Equipment: Computers, Printers, Phone chargers, Lamps, Fans etc.
Kitchen Equipment: Microwaves, Kettles, Toasters Mixers, etc.
Workshop: Drils, Saws, Angle-grinders, battery chargers, etc
Audio/Visual: TV's, Projectors, Speakers, Amplifiers, Mixers etc.
You can book us to attend your premises, and we can then work through all your appliances and test them. Once they are all done, we will then provide you with a record of all your appliances and test results. If you prefer, we can also attend your premises out-of-hours, so we can work without disturbing your workers.
Costs
For businesses with upto 250 devices:
Our minimum charge is just £40.00 to come out and attend your premises which include the first 30 items.
For each additional item there-after, we charge just 85p per item.
Where a replacement fuse is required (either to replace a damaged or incorrectly rated fuse), we will charge .30p per fuse.
If we are unable to pass a device due to damage to either its plug or damaged cable, we will endeavour to carry out a repair by replacing the plug. We will charge £5.00 per item for such a repair.
For Businesses with more then 250 devices
Contact us today to get a competitive quote.
Get in touch and book to get your appliances tested for electical safety today
Call 01386 800270 or complete the form below to book.
Contact Us
---